Malaysia
Dangerdisko (Nu Disco / Electroclash / Indie Dance)

DANGERDISKO; a name synonymous with Kuala Lumpur's glittering nu disco and synthwave scene, is one of Kuala Lumpur's most established DJ/Producer duo. With a career that spans a decade; Shaheed Naz and Robotron 5000 are seasoned veterans of the local electronic music scene. Their signature sublime mix of nu disco, 80's new wave, indie dance and house music, has taken the Malaysian music scene by storm. From their early start in various rock bands and electronic music projects, to their inception as DANGERDISKO in 2008, they have always found ways to push the limits of their creativity in music.
From early beginnings of creating music in a dusty bedroom studio in Subang Jaya, to collaborating with Malaysia's legendary queen of jazz, Dato' Sheila Majid, they have proven that the sky is the limit when it comes to their production style. The duo released a number of singles on various compilations released by Italian based label: Starquake records and went on to remix a number of artists; locally and abroad. They also had 2 singles that reached to the #1 spot on hitz.fm's MET10 charts. By 2014, they began work as musical directors for various high profile events such as the LPGA Tour 2014 which featured Malaysian divas, Sheila Majid, Jaclyn Victor, Ning Baizura and Adibah Noor. That same year, they were also invited to become brand ambassadors for Avenue K. The band went on to work with various high profiled fashion brands, such as Fred Perry, Hugo Boss, H&M, Topshop, Sacoor Brothers, COS and many more. In 2016, they were invited to compose Kuala Lumpur Fashion Week RTW 2016's anthem, in which the song 'Flashing Lights' featuring Ushera was released to critical acclaim.
Their credibility as overall electronic dance music artists is also evident in the shows they have performed. Their long laundry list of performances include, Future Music Festival Asia, Urbanscapes, Good Vibes Festival, Heineken Thirst Tour and Mystic Valley Festival among others. DANGERDISKO have also had the opportunity to spread their good vibes across regions with shows in North America, Hong Kong, Thailand, Philippines and Indonesia under their list of destinations.
In 2015, their debut album Hedonism finally made it into the equation. A unique music feature that encompasses past records and recently recorded ones, the basic album was released for free for the public with the Deluxe Edition being available at all major vendors. By 2017; the album saw almost 10,000 downloads. They are currently in the studio, working on the next release which is scheduled to be released this summer.
Ali Aiman
Malaysian producer and musician.
Buwan Buwan Collective
https://www.facebook.com/BuwanBuwanCollective/videos/762644507247600/
https://www.facebook.com/BuwanBuwanCollective/
The traditional Filipino game Buwan-Buwan has been all but forgotten by a generation of young, Filipino urbanites weaned on gadgets and mass media, but BuwanBuwan, a Pinoy beatmakers and electronic musicians collective, appropriate the concept of a game they in fact never played as children, transforming it into a framework for their perpetual creative exchanges, a take-off point for defining their identity as Filipino artists, and above all, a common ground where they can all play.
Homopartyrocker (house, EDM)
My name is Sean also known as "Homopartyrocker" as my DJ/Producer name, raised in Malaysia. I've been producing all kinds of EDM genre in the past 4 years. I am also known for my work EP project "Salvation EP". I am a DJ/Producer based out of Malaysia, Kuala Lumpur. I create and perform Electronic Dance Music (EDM) including remixes of hip hop favorites.
With my album released, EPs & Orginals supported by international DJs/Producers such as Joey Dale, JAGGS, Marcelo CIC, Timmy Trumpet, Daniel Wanrooy, Promise Land, BeatJunkx, BartandBaker, Dario Synth, Simon Lee & Alvin and many more.
Macropsia (Pop, electronic, dance)
Undulating grooves, soaring melodies and exquisite lyricism provide the foundations for the breathtaking music of MACROPSIA. The Malaysia-based duo made their debut in 2015 with a self-titled online release. This EP acted as a defining introduction for the electro-pop outfit, whose distinctive sound embodies the strengths and characteristics of the two creative minds responsible for it.
MACROPSIA is comprised of producer Lee Williams and vocalist Froya. Williams, who has built a career out of meticulously designing soundscapes and effects for film and television, intertwines his audio expertise with his passion for intricate pop harmonies and enticing rhythms to create the framework for each track. Meanwhile, Froya - an acclaimed artist in her own right and a mainstay of the Malaysian music scene - utilises her indie sensibilities to craft song hooks that are as profound as they are memorable.
With a new album on the horizon, as well as an excitable chatter surrounding the contagious energy and spirit of their live appearances, MACROPSIA is en route to becoming a leading proponent of electronic music throughout the region and beyond.
DRPX (dubstep, bass)
DRPX (formerly known as DERRTY PROJEXX) is a duo group originated from Kota kinabalu, North Borneo and founded on 2010. Played several gigs and started their career playing hard music for ex. Dubstep and Drumstep at few local underground Metal/Hardcore gigs, such as BORNEO SCREAM 2011 and ANCHOR SCANDINAVIA 2012.
DRPX consist of two members , Willy T and Brian D. With formal music theory backgrounds, they are also good with classical music and modern music. They joined forces with Bassfriends Records, based in Kuching, Sarawak which focused on 100% bass music. This movement is noticed by MAD DECENT and labelled their music with 'Borneo Bass' .
DRPX love to challenge their self with playing & producing all kind of music, from Dubstep to Trap , Moombahton, Electro House, Fidget, Future Bass, you named it. Give them a laundry list and they will set it up to music.
In 2013, they decided to spread their wings by travelling to KL and they managed to perform in a few clubs in Kuala Lumpur such as PLAN X, @LOFT , PLATINUM 21 , ESPERANCE KL, ROOTZ KL, and GRAVITY KL.
In 2014 they won a DJ competition and they managed to perform at MYSTERIOUS WORLD 2014 held SCV, Sarawak . It is an event where they got International DJs performing , such as DVBBS, VINAI, TONY JUNIOR, UBERJAK'D, ALVARO, DIRTCAPS, HEADHUNTERZ and many more
Stellar Dreams
From Petaling Jaya
Juno and Hanna
They mash their unique personalities together to create the music whereas Hanif mostly handles the beats and construction of the music while Hanna creates the melody and writes the lyrics as to what she is inspired off. Most of their songs consists of looping in general, they claim it is to emphasize on a certain beat before moving on to the next.
"Opening for Postiljonen was Juno and Hanna, brother and sister duo. Hailing from Johor Bahru, Malaysia. Although it was their first time performing in Singapore, the synthpop siblings managed to put together a magical performance, where the talented 17-year old Hanna sang melodiously in her saccharine-drenched voice and Juno produced mellow beats with his wine red electronic guitar."
Like Silver
From Petaling Jaya
Teoh and Adlin tweak knobs, push buttons, send each other files and let line up the sound waves.
Pastel Lite
Philippines
Paranoid City (synthpop)
https://www.facebook.com/paranoidcity/
https://www.facebook.com/paranoidcity/videos/1489903707706863/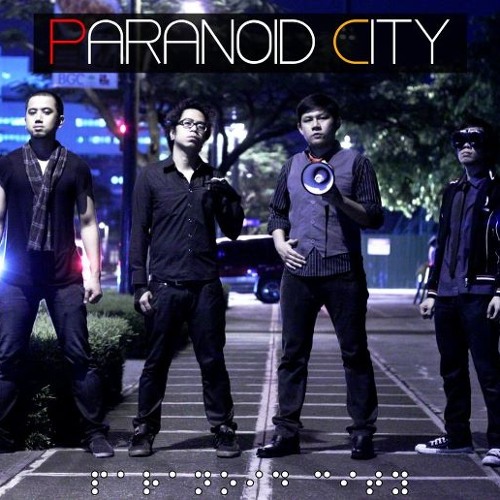 Formed June 2009. This Metropolitan Synthpop Band from Manila, Philippines consists of DAX on Lead Vocals, Guitars, and Synth; ROMMEL on Vocals, Synthesizers, and Electric Piano; JAPO on Vocals, Bass and Lead Synthesizers; and ERIC STRANGE on Drums.
They have independently released a full-length album called "Viewfinder Dreams" in 2011, as well as a limited Southeast Asian exclusive release EP called "Transitions" in June 2016. The band is scheduled to release their sophomore album called "Metropolitan" this April 2017.
They have already released 3 Music Videos namely "Here We Are Here We Go," directed by Robert Lyren in 2012; "Cold Hearts (in December)" directed by Jiggy Gregorio in 2015; and the soon-to-be-released (as of writing) "Just Like The Movies" directed by Gio Franco Alpuente.
Their song "Two Minutes to Paranoid City" was used in an online viral ad by popular local clothing brand Bayo bannered by popular TV and movie actress Jasmine Curtis-Smith.
The band has played in various countries around the region such as the Popscene Stage of the Culture One Outdoor Dance Music Festival 2012 in Bangkok, Thailand along with The Young Knives from the UK, The Standards from the UK/Thailand, Brett Newski & The Corruption from the US & other bands from Malaysia and Thailand.
Has played at Bazooka Rocks 3 Music Festival along with Echosmith, The Used, etc held last August 2014;
Performed for 3 straight nights at the coveted Esplanade Outdoor Theatre in Singapore for "Rocking The Region" last March 2015;
Went on a Southeast Asian Invasion Tour last June 22-25: Played at The Laundry in Petaling Jaya, Malaysia for Asian Connection, then culminated their mini-regional tour at Blowfish Bar in Singapore for Requiem Rising; Performed at the coveted "Zandari Festa 2016" at the Veloso stage and at Club Freebird in Hongdae as well as at Thunderhorse Tavern in Itaewon Seoul, South Korea last October 2016
Social Media:
FACEBOOK: https://www.facebook.com/paranoidcity
SOUNDCLOUD:
https://soundcloud.com/paranoid_city
TWITTER: @paranoid_city
INSTAGRAM: @paranoid_city